Karina Waite raising awareness + funds for PCFA
Karina Waite, our lawyer based in the Armidale office, recently walked over 72kms for the Long Run, raising awareness and funds for the Prostate Cancer Foundation of Australia (PCFA). Below is a photo of Karina on her final day having just completed 72 kilometers. The below was contributed by Karina Waite:
"Prostate cancer is the most common diagnosed cancer in Australia and it is estimated that 1 in 5 males will be diagnosed by the time they are 85. In 2022, more than 24,200 males were diagnosed with prostate cancer in Australia, with the average age of diagnosis at 69.
The PCFA provided my Dad with support during his diagnosis and treatment. Their ongoing support groups have continued to help him as he navigates life after treatment."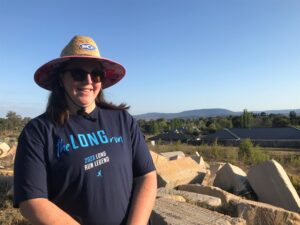 STEPtember Challenge Wrap Up 
Our team members participated in the STEPtember Challenge! We would like to congratulate all that participated, everyone did an amazing job!
As a team, Roberts + Morrow completed 6,182,409 steps and raised $3,120 for cerebal palsy, a fantastic effort!
The top fundraisers were the Armidale office and Glen Innes took out the award for the top steppers.